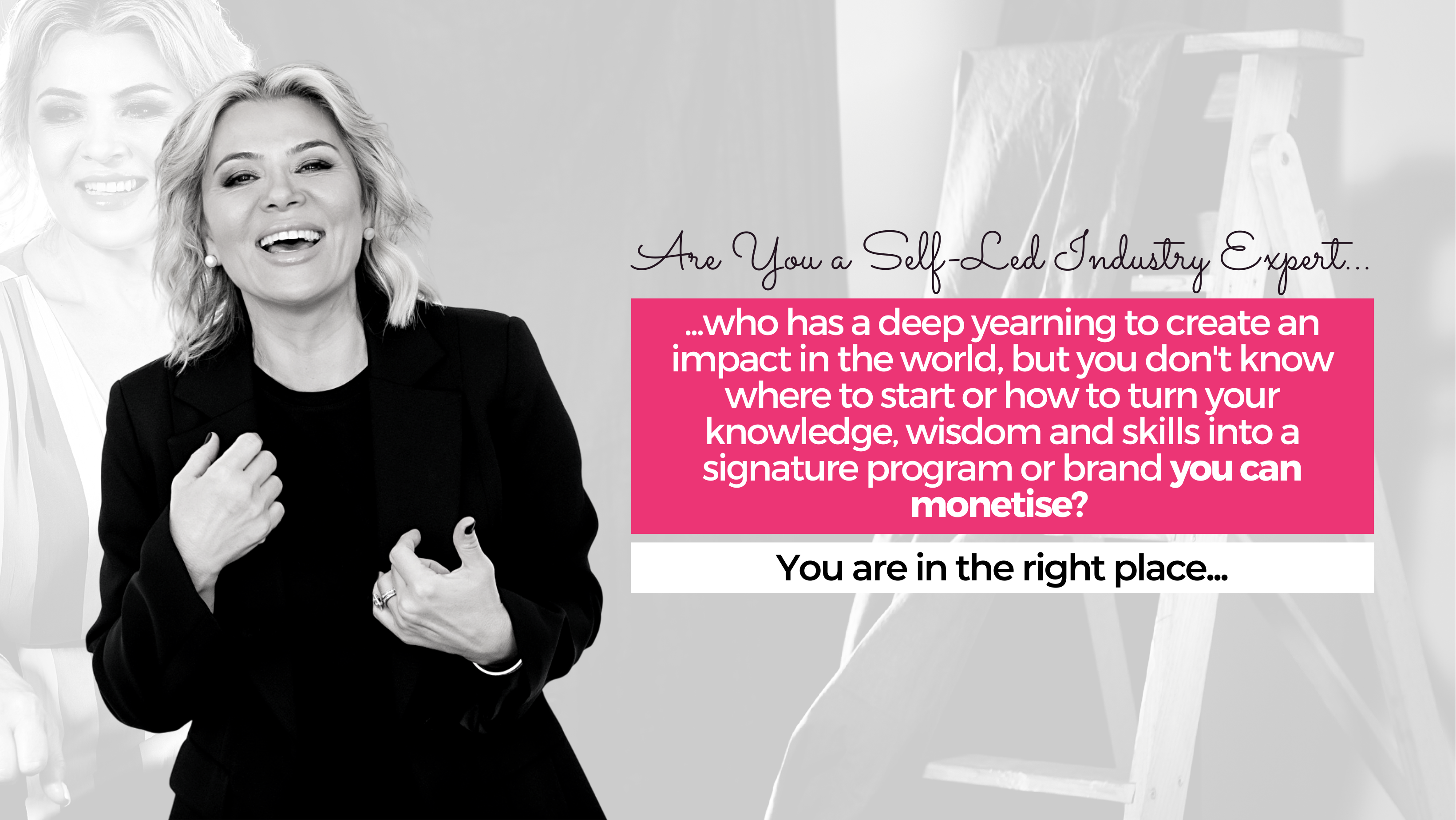 Hero Image_AUTHORITTI5.0_SubscribePage_Cher
Welcome to Lights-Cameras-ACTION!
12-Month Mastermind Coaching Program
You think it's useless to start your own business because nobody cares about entrepreneurs who aren't beautiful and young. 

You constantly find yourself giving knowledge away for free, when deep down you know it has more value. 

You want to create an impact in the world, but don't know where to start.

Your expertise remains hidden and under-monetised. 

You have done many femme courses and mindset coaching calls, but still feel irrelevant. 

You have years of experience that can be applied to a coaching or consulting business, but you don't want to take the risk in case you don't succeed. 

You have a lot more to offer than what you are doing right now.

You want to belong to a tribe of women who are already leveraging their knowledge, wisdom and skills to have successful 7-8 figure businesses. 
If you answered YES to any of the above, let me show you another way.
You think it's useless to start your own business because nobody cares about entrepreneurs who aren't beautiful and young.

You constantly find yourself giving knowledge away for free, when deep down you know it has more value.

You want to create an impact in the world, but don't know where to start.

Your expertise remains hidden and under-monetised.
You have done many femme courses and mindset coaching calls, but still feel irrelevant.
You have years of experience that can be applied to a coaching or consulting business, but you don't want to take the risk in case you don't succeed.
You have a lot more to offer than what you are doing right now.

You want to belong to a tribe of women who are already leveraging their knowledge, wisdom and skills to have successful 7-8 figure businesses.
If you answered YES to any of the above,
let me show you another way.
First of all, I want you to know that you are destined for something bigger.
You need to take radical action to impact and change the world through your wisdom. There's no other way.
You can't change the world with hundreds of thousands of Instagram followers. But you can change the world if you are an expert with specialised knowledge of how to solve a complex problem.
That's called transformative leadership. The world is in dire need of transformative leaders.
You aren't going to serve anyone if you keep listening to the mainstream media ideology that says you have to be in your 20s and beautiful to be successful.
Life starts once you are in mid-life. Think about this.
Do you realise you are already a multi-millionaire?
If you have accumulated 20,000 hours in your area of specialisation, and you placed a value of $100 on each of those hours, your intellectual currency is valued at $2,000,000. You would agree that is a big deal, right?
The question you need to ask yourself is, "How am I going to change the limiting beliefs and habits that are holding me back from being recognised as the authority in my area of specialisation?"
Will you find a way to move that energy, or let it weigh you down? The choice is yours.
Give Me 12 Months and An Idea…
Together, we can turn it into a ready-to-monetise business built on your intellect, experience and magnetic Personal Brand!
My name is Mary Henderson, I have been working with people who don't fit the false, youth-obsessed definition of being successful for decades.
If 40% of the women in the world are over 50, you can't sit and wait for somebody to come and change your life.
I will leverage 22 years of my experience and the systems I have built to turn your genius, creativity, knowledge, wisdom and skills into a brand and a business so you become the authority in your area of specialisation.
You've put in a lot of work to make a change… but somehow, all the self-help, digital marketing experts and femme coaches have not helped you create the impact you want to make on the world.
You are not on this page because it's a coincidence.
If you think about it, it's probably because consciously or unconsciously, your internal system is a barrier to your success as an entrepreneur in the coaching or consulting space.
…You can't shake the sense that you have no voice and you feel invisible. You are missing out on a huge opportunity.
You know you can create and deliver real value… and right now, you've realised that you have no system to help you implement a business that is congruent with your personal brand and your signature solution.
There is limitless wealth in owning your limitations.
You already know you can solve a complex problem that serves an individual or a business. But you are not actually doing anything with it.
To create a real business of value, you need an integrated system that provides you with a multi-layered lead-generation strategy, helps you embody the highest version of yourself and holds your hand for 12 months, so you are in an environment that deeply cares about and supports your success.
You have to start acting like an adult and owning your limitations. You need the right tools and support to push beyond those limits without spending years on them.
It's critical that you place yourself in an environment where experts listen to you intently and move you toward your goal.
Every woman I work with wants to belong to a tribe.
They want to feel that they are heard, supported and loved. For me, this has been my priority because I know what it feels like to be isolated on the entrepreneurial journey. Being alone actually pulls you away from your goal.
I created an acronym for my tribe, and when I looked at the etymology meaning, it blew me away.
That meaning accurately described my precious tribe.
The etymology meaning of the word "graphic" is vivid. When you trace the etymology meaning of the word "vivid", you will see it means spirited, animated and full of life.
That is why I used the acronym G.R.A.F.I.C. to describe my tribe.
It stands for Growth. Relationships. Authentic. Fun. Intentional. Creative.
My tribe consists of incredible women who are passionate about growth. They care deeply about creating real relationships, not brain-based relationships.
They are unapologetically themselves and show up as their true self in everything they do. They want to have fun. They are intentional in all their actions. Nothing is done at random.
Last but not least, they want to express creativity and bring that to life. That's their internal inventory. It's where their genius zone lies.
So the question I want you to ask yourself right now is,

"Am I ready to leave the false self-conception behind and join a tribe of GRAFIC women who are just like me?"
That will be the key to your own rapid growth and breakthroughs out of the patterns that have kept you playing small up until now!
But that's not all…
There are 5 systems you need to master and implement so you can be recognised as the go-to expert in your area of expertise and build a successful coaching/consulting business.
Here are the 5 systems you need to implement…
Your Personal Brand communicates your authority – compelling the right people to pay attention.
Defined, vetted systems let you share  your brilliance at scale, to support the impact you truly deserve to create.
Digital transformation opens you to virtually limitless opportunities to connect and serve, while giving you back your time.
Strategic commercialisation lets you prosper while doing what you know you're meant to do. Leveraging magnetic marketing will help you convert what you stand for into words, so you can create a movement and pull people who want to buy from you into your ecosystem.
The new type of leadership emerging in the world is based on transformation and self-actualisation. You will embody your brand so it is spoken through everything you do and creates affinity in your tribe.
When you are able to systemise and implement all the moving parts of your business, from your brand architecture, signature program, coaching model and digital assets to lead generation and social media strategy with ease and grace, you actually see the fruits of your labour transpiring in real-time.
You are then ready to celebrate your wisdom, own it and gain recognition for it.
One of my clients, Gina Riley, is a career transformation coach who has built a 6-figure business with a waiting list based on developing a system to take her clients from start to results in 6 weeks. Listen to her case study.
I can get you to launch in just 16 weeks.
The great thing is you can join anytime!
The moment you complete enrollment, you will feel a deep sense of relief.
That's because you will know that in just a few short months, you will have a tangible system to monetise the currency you carry with you in the form of your intellect, experience and wisdom valued at millions of dollars.
You will stop treating that internal inventory, experience and wisdom like disconnected information, as a side hustler would.
You will build a real business of value based on an integrated system made up of a lot of critical moving parts and charge premium pricing for it.
The Lights-Cameras-Action Mastermind is a hybrid, done-with-you coaching program. That means you can join when you are ready. There is no start or end date.
The program runs for 12 months, but I will get you to launch within the first 16 weeks of joining the mastermind.
You have the opportunity to learn from others based on where they are at on their entrepreneurial journeys. You get to extract knowledge and wisdom from other people in my tribe.
My incredible tribe is not only motivating but is tapping into a powerful energy field of people who have launched or are about to launch.
I have combined the four loves of my life 
PERSONAL BRANDING
SALES
DIGITAL
PERSONAL DEVELOPMENT
into a COMPLETE done-for-you solution that lets YOU
Package the loves of YOUR life into a scalable and sustainable business.
How is Lights-Cameras-ACTION! different from other programs?
Firstly, I have merged a masculine and a feminine power system together. Everything that is an energy force is made up of masculine and feminine.
I ensure you have the tangibles in place first so you can monetise.
We go through the process of self-actualising only when your business goes live.
Through that process, you will gain self mastery because what I teach in the embodiment phase is not self help nonsense.
When you rely on one integrated system that works for you instead of dividing your business into multiple micro widgets full of band-aid solutions, you will command premium pricing.
In doing so, you never go back to the person you were before you started working with me. That is why your success is my priority.
The bottom line is – the HOW has been done for you. All you need to do is implement and embody your True Self.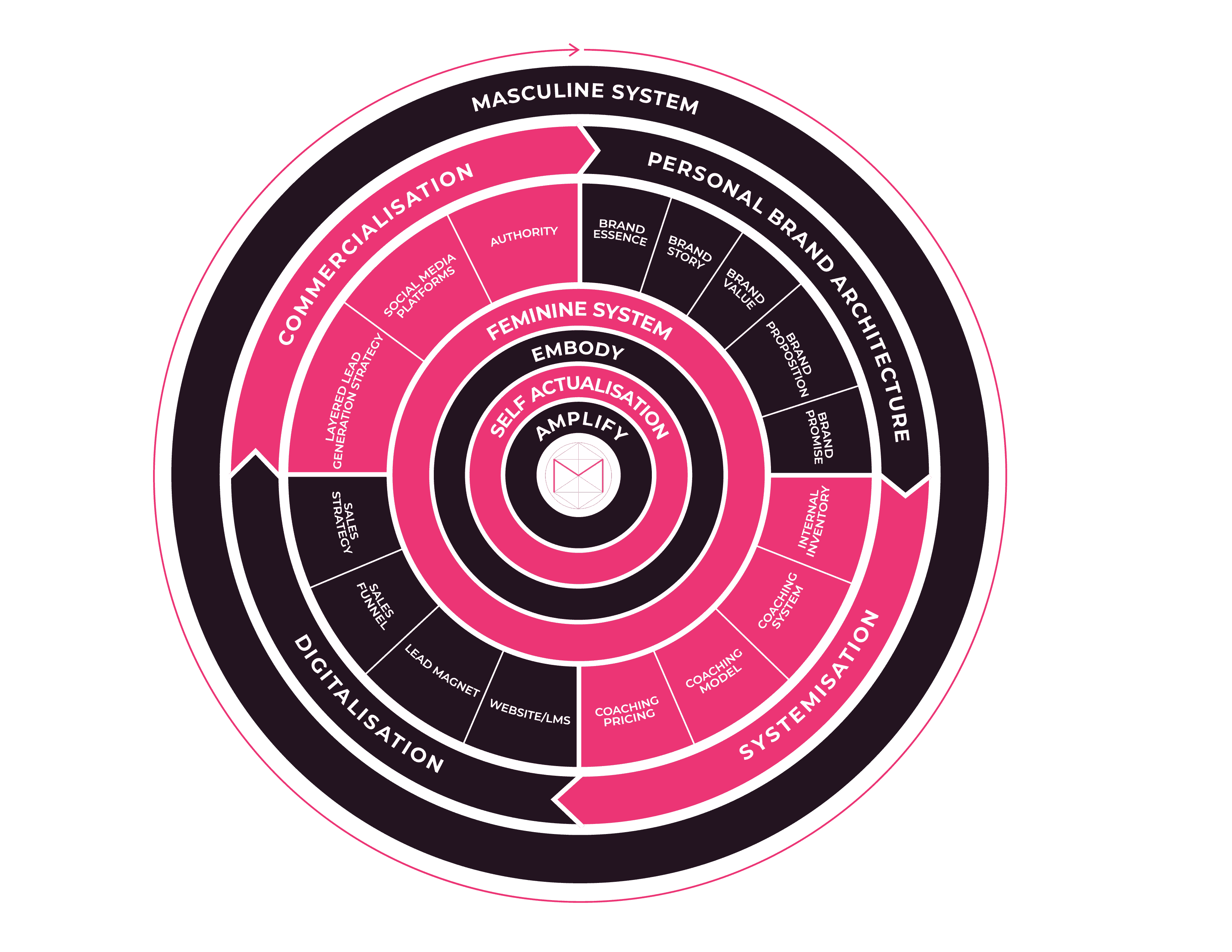 This is how I have separated my system which is called Lights-Cameras-ACTION! into five parts to make your journey even easier:
Part 1: Unpack and Clarify Your Personal Brand
You will have access to my Personal Branding software designed for my clients only called Authoritti. This software has the capability to unpack all your key attributes and convert them into meaningful data that help define who you are in your natural state of being. That means you never have to worry about trying to BE somebody else. You will love who you are.
This helps us clarify your brand and messaging with absolute precision.
Part 2: Creating Your Signature Transformational Program
Using our tested methodology, we will translate your expertise into ONE signature program, so you can deliver
it in-person, online or in a workshop. We will build your delivery and pricing model using my tried-and-tested frameworks.
Part 3: Build Digital Assets That Create Ecstatic Brand Experiences
You will master how to convert your digital assets into powerful communication touchpoints that will
make you top of mind, including your website, lead magnets and everything in between.
Part 4: Effectless Lead Generation with Social Selling
You will master the beginning-to-end social selling process that strategically positions YOU as the authority…
making it virtually impossible for prospects to choose a competitor over you!
Part 5: Amplification
Amplifying your brand and your presence is not something that happens by chance. Once you launch your business,
you then become it. The tools provided in this mastermind are not self-help tools. They are self-mastery tools.
And here's one more reason:
My coaching is high-energy, consistent and intuitive. I am driven by your success and passionate about helping you attain your goals week by week.
I teach energetics on weekly coaching calls to walk you through emotional barriers and help you become the best version of yourself.
I give you tools and frameworks that are transformational. NOT self-help positive thinking. That does not work.
I empower you to master your mind and provide you with tools that I learned from the best mentors in the world that work!
You get the same systems Fortune 500 companies have in place to provide all the key pillars of your business.
I offer you proven strategies to create leads organically using my unique insight into creating content that speaks to your target audience, not at them, across all different platforms on and off social media.
You don't need to wait – you can start the program today and begin making progress toward your new, thriving coaching or consulting business before the day is over!
The best part about working with me is
you won't even have to do all the work yourself.
SYSTEMS APPROACH: When you join the Lights-Cameras-Action Program, you will experience the beauty of systems design thinking first-hand. The end-to-end system that underpins my 12-month mastermind program has the capacity to be updated and improved at all times.
COMMUNITY COACHING: Each week of the program, I host two coaching calls to help you navigate two critical systems that shape your life.
All the members of my tribe of self-led industry experts who have a deep desire to work with me get invited to these calls. They create a powerful resonant field that helps you tap into each other's genius.
I create a safe space for my tribe members because I deeply respect them, understand them and know how to speak their language.
Every person in my tribe is seen and heard. I dedicate as much time as you need to my coaching calls. They are not bound by time.
That's what differentiates my coaching program.
The Tuesday coaching calls I host each week focus on the feminine power system. These calls are transformational because the wisdom I share and the tools you get are not self-help.
You will feel activated in these calls and experience profound shifts that will accelerate your visibility, confidence and manifestation.
The Thursday coaching calls focus on the masculine power system based on implementing all the key moving parts (website, signature program, lead generation, emails etc.) with the help of my team of professionals who are there to do the heavy lifting for you.
The most beneficial part of joining Lights.Cameras.Action is the one on one 3-hour onboarding session with me. In this session, I will extract information from you, take that inventory and send you an entire layout of your signature program within 7-10 days. That saves you months of trying to figure it out.
Plus, you have direct access to me via WhatsApp and email. I am always accessible because it is my goal to hold your hand on this journey so you never feel alone. Being available for my clients gives them peace of mind.
Hear Maryia's Experience…
Hear Alidia's Experience…
Hear Falguni's Experience…
"Are you the right person for this mastermind program?"
As you would expect, Lights-Cameras-Action is a significant investment.
So it is important to be honest with yourself about whether it is for you:
Lights-Camera-ACTION!
is NOT for you if:
You do NOT have a minimum of 10,000 hours dedicated to your area of specialisation.
You are not prepared to invest time and effort into creating a successful business.
You want a get-rich-quick scheme.
You are looking to fast-track your way to fame.
You are not a self-led steward of this potent time in human history.
But it DEFINITELY IS
the right move for you if:
You identify as an industry expert with more than 10,000 hours dedicated to your specialisation.
You have a deeper yearning to create an impact in the world and transform lives.
You are willing to invest time and effort to build your business and unforgettable personal brand.
You are open to receiving 22 years of my blood, sweat and tears in the form of coaching.
You love being part of a tribe operating in a resonant field of support, contribution and results.
It has been a long time coming.
How much longer are you going to wait?
Right now, you have a choice to make.
You can keep trading years of your hard-earned knowledge, wisdom and skills for free, while you keep wondering, "Where did all the years go by?"
Or you can decide to take advantage of this opportunity to become self-aware of your limitations and use them to claim centre stage for yourself.
Inside, you already know what the right answer is.
Don't put off the success, recognition and impact you want any longer.
Click the button below and be a part of a tribe for 12 months that will advocate and support you.
Your Lights-Cameras-ACTION! enrollment is one click away. Click below to get started.
YES, MARY! Take me to a ready-to-monetize business I actually love!
Lights Cameras Action Service Disclaimer
Lights Cameras Action Service Disclaimer
This is a serious and very detailed course. The expectation is that you will complete the course material within a 12 month period in order to further your skills in digital marketing, position yourself as an authority and start your (online or offline) business. If you are hesitating to purchase, please don't buy. This is 30,000+ hours of experience carefully curated into a program. Once you have made your purchase, you get access to all the interactive tools, modules, frameworks, workbooks and training videos.  It is not for people  who aren't ready to take it seriously and take action. Please DO NOT buy it if you can't afford it or if you don't have a solution ready for monetisation. Refunds are not given. Do NOT buy it if you think it will turn you into a millionaire overnight. I built my coaching business over a 5 year period, not overnight.