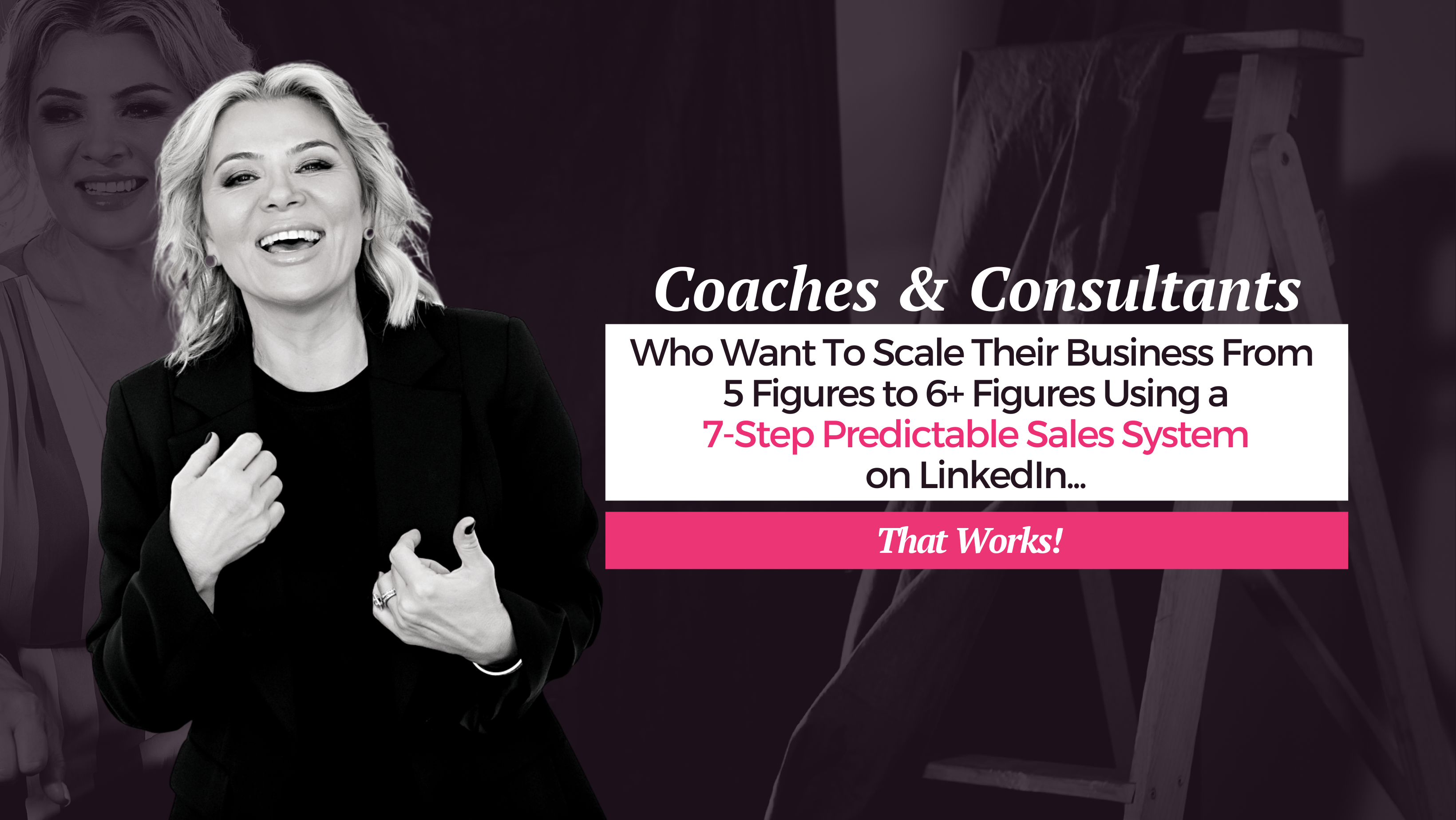 Hero Image for website - 1
The LinkedIn Lead Gen Simplified System
Based on the last 10 years of researching and refining Facebook Ads and LinkedIn organic reach, I know this for sure…
You recognise that you need to build your presence on LinkedIn to grow your business.
Coaches and consultants haven't got the luxury to build relationships through social selling strategies on LinkedIn anymore. That only serves Businesses and SMEs.
It takes many months or years to engage with clients over long B2B buying cycles that way.
The only way for you to generate leads and close sales every single month with predictability is by adopting a B2C mindset on LinkedIn that is backed up by a systems design approach.
Once you truly understand how to merge the front-end and back-end functions of LinkedIn, you will be unstoppable.
You are sitting on a goldmine of intellectual currency called wisdom. It is the best way to create content that helps you separate yourself as an authority on LinkedIn.
We are at a precipice where the LinkedIn platform is primed for coaches and consultants to reach the hearts, minds and souls of prospects by mastering LinkedIn messaging like never before.
My unique system helps you find and target prospects with high-quality and high-conversion content so you are never left wondering what to post, who to reach out to or how long it will take to close a sale.
Envision knowing the type of content you need to post each day and how to structure every post so it converts to predictable leads and sales without spending hours trying to figure out what to post.
Building on a long-spanning tech career spent as a VP of sales, I have dedicated the last 20+ years to designing and perfecting sales systems, learning LinkedIn's organic reach and creating ecstatic brand experiences through intensive research and tribulations.
I am sharing my knowledge in granular detail supported by frameworks, step-by-step implementation video lessons and high-conversion examples to tell you exactly what you need to do, and when you need to do it.
You have the power to decide if you will embark on this journey to master your LinkedIn sales funnel or just keep showing up as you have been for all these years.
I am excited for you to start getting predictable leads and sales.
You think it's useless to start your own business because nobody cares about entrepreneurs who aren't beautiful and young. 

You constantly find yourself giving knowledge away for free, when deep down you know it has more value. 

You want to create an impact in the world, but don't know where to start.

Your expertise remains hidden and under-monetised. 

You have done many femme courses and mindset coaching calls, but still feel irrelevant. 

You have years of experience that can be applied to a coaching or consulting business, but you don't want to take the risk in case you don't succeed. 

You have a lot more to offer than what you are doing right now.

You want to belong to a tribe of women who are already leveraging their knowledge, wisdom and skills to have successful 7-8 figure businesses. 
If you answered YES to any of the above, let me show you another way.
Welcome, My Name is Mary Henderson
Who Am I and Why Listen to Me?
I have spent the last 10 years mastering Facebook ads and LinkedIn organic reach. In the last 4 years, I have strategically grown my LinkedIn network to 83K and my content has had just shy of 6 million views. Most importantly, I have made multiple 6 figures in revenue each year for the last 5 years with NO ad spend. I have systemised my experience in creating Facebook ad campaigns and LinkedIn organic reach into a system called The LinkedIn Lead Gen Simplified exclusively for coaches and consultants. Why? Because Coaches and Consultants need a B2C system, NOT a B2B approach that the social selling experts teach.
Here is evidence of my footprint on LinkedIn to date:

You've been caught up in the vanity of likes, comments and compliments for a while now… but somehow, these metrics haven't helped you convert LinkedIn prospects into sales, have they?
I believe you have landed on this page for a reason. If you think about it, it's probably because you know intuitively something is missing in your approach. As an industry expert, your LinkedIn network has value and specific pain points.
You can't afford to show up on LinkedIn and fake it 'til you make it by being a part of PODS. That is a lot of time you waste with people who will never buy from you. I have been there and done that. That is not how you nurture your network to create real value for your business and brand.
You also know feeding your ego by just having presence and superficial likes is not the mission you want to pursue. You can serve in a much bigger way.
If you've been wanting to do this for a long time, who is telling you that you can't? Is it your soul, or is it your ego? If you don't know the difference, you are limiting yourself and not fulfilling what you were really put on this earth to do.
You can build a system based on a streamlined targeting approach and an end-to-end content strategy to serve specific sales goals, or you can spend another year trying to figure it out and continue applying random strategies the social selling gurus tell you based on how they think the algorithm works.
Success is limitless once you optimise your LinkedIn targeting strategy.
You have been sold this concept that the approach large corporates use to message and create content on LinkedIn is the best way to create a 6-figure+ business. These strategies work to promote corporate brands over a long time. They don't help the individuals executing them to secure monthly sales.
You need to deliver ecstatic brand experiences that remove resistance, promote your value as a coach/consultant and help you become believable and trustable as a solopreneur.
When you fuse your content posts with your sales system and financial goal, you will start responding to your target audience proactively to nurture them towards a sale instead of reacting to every like or comment aimlessly.
I have spent 10+ years mastering Facebook and LinkedIn lead generation and growing my coaching business that way. I have also helped many industry experts, coaches and consultants build their profiles and find the right niche to increase their LinkedIn success exponentially.
So Why Aren't YOU Increasing Your LinkedIn Success?
"I have no idea what content to create."
Marketing agencies and LinkedIn gurus teach you how to build a LinkedIn presence with approaches focused on getting content to go viral.
These approaches will not serve your business model as a coach or consultant because you have the ability to leverage multiple price points on LinkedIn.
You can sell micro solutions to different niches in your audience and serve people on a one-to-one or a one-to-many basis.
That means the content you put out on LinkedIn needs to be based on delivering experiential outcomes to reduce a micro pain point or allow your prospects to experience a micro win through deliberate and strategic targeting. I will show you exactly how to do that.
"I don't know how to convert leads into sales."
The reason you show up on LinkedIn is to provide value. You need a system in place that allows you to consistently deliver real value to your network.
Once you know you can deliver value, you can use the system to nurture prospects along your sales funnel using logical steps.
None of that is possible without a system that allows you to track your leads, their responses and your content.
You can create a feedback loop that helps you improve and refine the value you offer and speak more directly to the heart, mind and soul of your prospects. That is the science and art of converting prospects into leads and nurturing leads into sales on LinkedIn.
"I don't know how to create trust."
Your LinkedIn profile page is the doorway to success. A lot of coaches and consultants don't understand how to set this up right.
You need to think of your profile as the front window to your retail shop. People should feel really drawn into the front window because it is attractive and really speaks to them in their language.
I will give you the tried-and-tested framework to show you how to write your LinkedIn About summary on your profile and tell you all the critical LinkedIn settings you need to have in place.
When a prospect lands on your profile, you only have 5-10 seconds to convince them you can help. If your profile is not congruent with your branding across all of your communication touchpoints, you will lose believability and trust.
One of my clients, Gina Riley, is a career transformation coach who has built a 6-figure business with a waiting list based on developing a system to take her clients from start to results in 6 weeks. Listen to her case study.
I've packaged 3 of my highest-valued skills
1. Organic LinkedIn and Social Media Lead Generation

2. Building Sales Systems

3. Growing Coaching/Consulting Businesses to 6+ figures
Into a COMPLETE online program that shows you, step by step, how to create a content, sales and lead-generation system you can implement in 7 steps.
How is The LinkedIn Lead Gen Simplified System Different From Other Programs?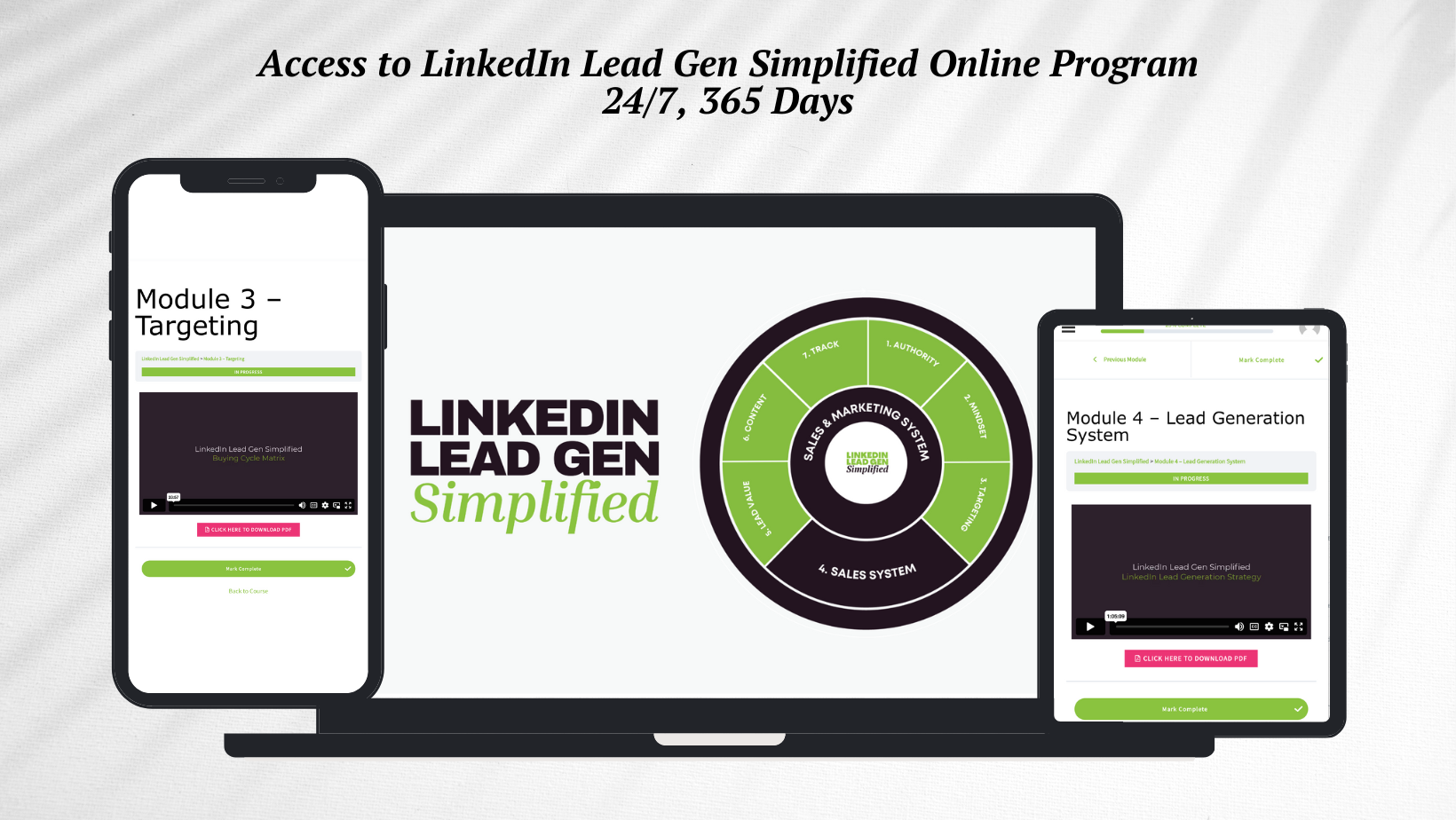 Every client looking for a solution in today's economy will only pay for outcomes, results and transformation. They do not want information and education anymore. We have bypassed that phase of creating content by experts who call themselves coaches but can't deliver a transformation. That is why you need a systems design approach.
This program gives you a structured framework to treat your coaching or consulting business as a media company that produces content you drip-feed the LinkedIn platform every day. You will create a content strategy so one LinkedIn post links to the next post and all the posts that follow.
Most experts on LinkedIn are creating content and doing some outreach, but they don't understand what their goals are. They don't understand targeting, and they don't have a sales funnel or system in place. I start with your goals on LinkedIn and break down what you want to achieve in numbers. You will define exactly how many leads you need to generate in a given month to meet your 6-figure sales quota.
I give you the formula and explain how to identify how many leads you need to generate. That is the starting point for the system I show you how to build. It has a front end and a back end. Five micro-systems merge into one system. The front end consists of understanding the buying cycle matrix (targeting), understanding your LinkedIn goals, creating a sales funnel, designing a content strategy and having an outreach strategy in place.
You have one traffic source that comes from the back end. These are the prospects you connect with on LinkedIn and send a personalized message to. That's what we call outreach.
You also collect traffic from the front end, which are the posts you create and the prospects who see those posts. I help you leverage traffic on two ends using my content and messaging system. There is no other program out there that shows you how to do this with ease in such detail.
Every system has input, output and a feedback loop you can track. When you have a systems design approach on LinkedIn, the feedback loop is the goldmine. You can create any campaign, come back to it in six months and ask yourself, "What was the best campaign in July?" Every step you take using the LinkedIn Lead Gen Simplified System is recorded in your tracker. You will never feel like you don't where you stand with a prospect or your monthly targets. You are in control of your destiny.
Even though this is a self-led program, the video lessons feel like I am sitting in front of you and explaining the step-by-step process in simple terms. These are not 15-minute lessons. They are detailed, intense lessons that go on for 40–60 minutes or longer. I make sure you don't feel overwhelmed and always know what to do next. You are getting everything you need in my frameworks, worksheets and examples.
Plus your learning is supported with an exclusive WhatsApp group for like-minded coaches and consultants passionate about growing their businesses on LinkedIn. You can always rely on my tribe and me on WhatsApp to help you overcome any obstacles or clear any doubts as you build your business to 6 figures+ on LinkedIn.
No need to spend thousands of dollars on agencies and LinkedIn gurus – I am giving you access to over a decade of my experience in scaling coaching/consulting businesses on LinkedIn with strategic lead generation.
This is a Fully Self-led Online Learning Program
You can access for 12 months, so you are always in control of how quickly you can start generating tangible results on LinkedIn.
There is no pressure to go at a pace that does not serve where you are in your journey right now.
Once you implement all frameworks, follow the micro steps detailed in my video lessons and create your lead tracker, you will get LinkedIn to work for you in as little as 14 days.
Why I Am Inviting You to Join This Incredible Program
Mastering LinkedIn lead generation hasn't just allowed me to scale my coaching business. It has given me the freedom and peace of mind to pursue my mission of sharing my wisdom with the world. I want to use my knowledge to help you pursue your mission.
I passionately believe that those who are holders of wisdom will be the game changers who lead the world today, tomorrow and for future generations.
The best part is, your wisdom holds the key to help you penetrate deeper into the minds of your ideal client personas (avatars) so you can understand what their consciousness level is, what they need, want and desire, what their mindset is and where they are on the buying cycle matrix.
At that point, lead generation will be in harmony with your natural state of being. You won't ever feel like you have to force a sale on LinkedIn.
My driver for you is to transform lives by delivering real value through this program.
I have separated The LinkedIn Lead Generation Simplified Program into 7 end-to-end parts to make scaling your business much easier.
Here's how it all breaks down…
Part 1: Authority:
Understand how to set up your LinkedIn Profile for success.
(A) Learn how to write your profile title, how to write your contact info and how to take a professional photo and upload it to LinkedIn.
(B) Use a proven framework to learn how to write your About summary using language that talks to your audience and how to write a powerful Experience description to create believability and trust.
(C) Understand how the creator mode and the featured section work.
(D) Discover the critical LinkedIn settings you need to have in place.
Part 2:
Part 2: Mindset:


Learn the importance of shifting from a B2B mindset to a B2C mindset to generate more leads and close more sales on LinkedIn.
(A) Identify the gaps in social selling strategies that serve big corporations and how your needs on LinkedIn are different as a coach or consultant solopreneur.
(B) Shift focus from the hamster wheel of vanity metrics to understanding how you need to show up on LinkedIn.
(C) Learn how the B2C buying cycle can help you close sales every month by fulfilling three critical goals (know, love, buy) instead of waiting months/years.
(D) Learn the systems design approach to LinkedIn based on your financial goals, targeting, providing value and lead generation.
Part 3: Targeting:


Understand who your ideal client personas (avatars) are and where they are on the buying cycle matrix.
A) Learn to use the buying cycle matrix that has taken me 10 years to master. Once you complete this matrix, you will use it across any social media platform and all your communication touchpoints.
B) Unpack your five key avatars to answer key questions like what content to create, how to nurture leads and what micro results or wins they need to experience to believe you and buy from you.
C) Learn how to use LinkedIn Search like a professional to refine your targeting approach and pull in high-quality leads.
Part 4: Sales System:


Understand how to synchronise the front-end and back-end functions of the LinkedIn system to generate more quality leads and create high-conversion content.
(A) Understand your LinkedIn strategy goals, sales funnel, content strategy, outreach strategy and the buying cycle matrix.
(B) Get clear on your precise and timed financial goals for LinkedIn on a monthly basis.
(C) Understand how to nurture leads and differentiate prospect behaviours.
(D) Create a content funnel wrapped around a feedback loop using the exclusive lead generation tracker.
(E) Design an outreach strategy to nurture leads that is congruent with your financial goal, sales funnel and content strategy.
Part 5: Lead Value:


Master the use of a lead magnet to deliver high quality and secure high conversion rates.
A) Learn how to design powerful lead magnets using a framework so you can use your sales funnel to create logical steps for prospects to take.
B) Learn how to stay top of mind by optimising your LinkedIn audience's experience.
C) Devise strategies to deliver results, outcomes and a tangible win or transformation.
Part 6: Content:
Build the foundation to execute your content strategy.
A) Identify what you are selling at the end of each LinkedIn post, create strong Calls to Action and devise 10 hooks you can use for each post in your 14-day content campaign.
B) Learn how to prepare your content so each post flows into the next one to nurture your audience with a logical flow that makes your solutions clear.
C) Use a tried-and-tested framework to structure your LinkedIn posts and create a variety of posts.
D) Complete a messaging framework so you know exactly what to say to your prospects, when to say it and how to move them down your funnel. This is a very important part of your content strategy.
Part 7: Track:


Track your leads and content to grow your coaching/consulting business to 6 figures by using the system and its feedback loop.
A) Use a structured framework to track your leads and content one lead and one post at a time.
B) Learn how to track your outreach interactions in detail.
C) Discover how to unpack data and information to improve your LinkedIn targeting strategy with a feedback loop.
D) Learn how to schedule content to free up time for organic growth on LinkedIn.
This is the Total Value of The LinkedIn Lead Gen Simplified System
You get an end-to-end system when you JOIN The LinkedIn Lead Gen Simplified Online Program
Detailed video lessons that explain the why and how: Valued at $2,000

Supporting frameworks that show you

how to do it

– all done for you. – Valued at $3,000

Buying Cycle Matrix – $2,000

Lead Gen & Content Tracker – $2,000

Content & Messaging sequence system – $2,000

Customisable Content Headlines/hooks – $1,000

Sales system – $5,000

WhatsApp Group – Micro Coaching – Valued at $2,000

Access to the online program for 12 months (inc. updates to lessons) – Valued at $2,000
TOTAL VALUE: $21,000
Hear Maryia's Experience…
Hear Alidia's Experience…
Hear Falguni's Experience…
The ONE Thing I Know for Sure…
I know one thing for sure. The only difference between a 5, 6 or 7-figure business is a predictable system. If you don't have a sales system in place, you will only get what you have always gotten.
The real question you need to ask yourself is – How Much is Not Having a System in Place Actually Costing Me?

You now have a choice in front of you.
You can continue to take the long-winded B2B approach where you close a sale once every few months/years, or you can follow a structured program to target high-value leads more strategically and significantly shorten your buying cycle on LinkedIn.
In your heart of hearts, you know what you need to do to build a successful coaching or consulting business.
Click the button below to join The LinkedIn Lead Generation Simplified Program now if you are serious about taking your business to a whole new level.
This is the VALUE you get when you join:




The LinkedIn Lead Gen Simplified System:

Detailed video lessons that explain the why and how: Valued at $2,000
Supporting frameworks that show you how to do it – all done for you. – Valued at $3,000
Buying Cycle Matrix – $2,000
Lead Gen & Content Tracker – $2,000
Content & Messaging sequence system – $2,000
Customisable Content Headlines/hooks – $1,000
Sales system – $5,000
WhatsApp Group – Micro Coaching – Valued at $2,000
Access to the online program for 12 months (inc. updates to lessons) – Valued at $2,000
TOTAL VALUE: $21,000

The LinkedIn Lead Gen Simplified System Service Disclaimer
The LinkedIn Lead Gen Simplified System Service Disclaimer
This is a serious and very detailed program. The expectation is that you will complete the course material within a 12 month period to further your skills in lead generation, digital sales and marketing, position yourself as an authority and grow your business. If you are hesitating to purchase, please don't buy. This is 40,000+ hours of experience carefully curated into a program. Once you have made your purchase, you get access to all the interactive tools, modules, frameworks, workbooks and training videos.  It is not for people who aren't ready to take it seriously and take action. Please DO NOT buy it if you can't afford it or don't have a solution ready for monetisation. Refunds are not given. Do NOT buy it if you think it will turn you into a millionaire overnight. I built my coaching business over a 5 year period, not overnight. Every person has different results based on experience, market conditions, commitment and effort.